Get Help - Find a Rehab Center Today

For help finding an addiction treatment center, Call us!
All calls are 100% confidential and free
1-877-882-9275
What Withdrawal Symptoms Does an Addict Fear Most?
Withdrawal is a necessary, but often feared, first step toward recovery. Withdrawal consists of the symptoms that accompany the cessation of drug or alcohol use. Drugs and alcohol have a powerful effect on the mind and body of the person with addiction. When an addicted person stops using the addictive substance(s), the mind and body must adjust to its absence.
The physical and mental distress that occur as a result of substance withdrawal can be intense, uncomfortable, and frightening. Without withdrawal, however, the many benefits of sobriety are impossible. People with addiction must face their fear of withdrawal as one of the first steps in the recovery process. Here is a look at some of the most common, and feared, effects of withdrawal, and how people with addiction can begin to confront their fear in order to heal.
Emotional Effects of Withdrawal
Addiction, at its root, is a physical disease that overtakes the reward system of the brain. Because addiction does affect the brain, withdrawal often includes emotional and psychological symptoms that can be very distressing to the addicted person.
For example, as the brain becomes accustomed to having high levels of drug-provided dopamine (a neurotransmitter that produces feelings of happiness and wellbeing), it begins to produce fewer dopamine neurotransmitters itself.
As a result, when the drug is no longer available during withdrawal, the addicted person experiences mood destabilization, such as depression or anxiety due to the drop in dopamine. The brain must find a new equilibrium without the drug, but before that happens, there is a brief period of agitation and distress.
Here are a few of the most common, and intense, emotional symptoms of withdrawal.
Anxiety
Hallucinations
Agitation
Irritability
Paranoia
Drug cravings
Delusions
Mood swings
Depression
Dysphoria (A powerful feeling of unease)
The exact emotional effects of withdrawal will depend upon the substance from which the person is withdrawing. For example, depression is often associated with alcohol withdrawal, while paranoia is often associated with cocaine withdrawal. While most withdrawal symptoms are short-lived,fading within 3-10 days, they can also last for several weeks after withdrawal. Prolonged withdrawal symptoms can be extremely distressing to the patient and may be enough to encourage them to keep taking the addictive substance, even after they want to quit.
Physical Symptoms of Withdrawal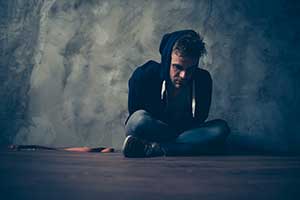 The disruptions in brain chemistry that occur during withdrawal can also lead to numerous, and potentially severe, physical symptoms. The length and severity of these symptoms depend on a number of factors including:
Length of addiction
Severity of addiction
Individual's personal physical makeup
Type of drug the individual is dependent on
These physical symptoms can vary from mild annoyances, such as a runny nose, to life-threatening symptoms, such as seizures and heart attacks. Here is a look at some of the physical consequences of withdrawal:
Sweating
Runny nose
Nausea and vomiting
Muscle aches and cramps
Insomnia
Tremors
Hot and cold flashes
Rapid heart rate
High blood pressure
Increased appetite
Restlessness
Hallucinations
Increased sensitivity
Seizures
Heart Attack
Fear of Withdrawal
Withdrawal's intensity can be terrifying for people with addiction. The combination of physical and psychological distress can be a strong deterrent to recovery.
Facing these fears, then, is truly one of the first steps in recovery. Medical detox programs can help.
Detox services in a qualified center can help a person with addiction manage the severe and potentially life-threatening symptoms of withdrawal. These services include medication and medical supervision that make withdrawal more comfortable. Medical detox programs also provide close monitoring of one's vital signs and symptoms to ensure that they remain safe during their withdrawal.
In addition, detox helps people confront their fears of withdrawal. The presence of compassionate personnel can ease one's fears, while medication can calm their anxiety and lessen their symptoms. Some detox centers will even provide a counselor to people with addiction. This professional can help develop a treatment plan for after detox and help them navigate detox with more confidence.
Ultimately, people with addiction must confront their fears in order to pursue recovery. Knowing that they have a qualified detox center and professionals on their side can help.
Sources:

Other Drug and Alcohol Rehab Services:
National Non Profit Helpline - 1-877-882-9275
Our National Non Profit Helpline is a 24/7, 365-day-a-year treatment referral and information service for individuals and families faced with mental and/or substance use disorders.
All calls are strictly confidential
Our service provides referrals to licensed treatment facilities, support groups, and community-based organizations. You don't have to struggle alone with addiction. Help is just a phone call away. Call 1-877-882-9275 now to get the help you need and deserve.