Get Help - Find a Rehab Center Today

For help finding an addiction treatment center, Call us!
All calls are 100% confidential and free
1-877-882-9275
Critical Things To Look For In A Treatment Program
Whether you are preparing to assist a loved one with their recovery or seeking support for yourself, finding a treatment program that will meet your or your loved one's needs is critical to a successful recovery. However, depending upon the area where you live, the choices can be overwhelming. California, for instance, has 1,797 rehab facilities in the state - Sorting through all of those options can feel intimidating.
The good news is that there are many ways to narrow down your search to the right program for your needs. Here are 10 of the most important things to look for in a treatment program.
Treatment That Matches Addiction Level
There are treatment options available for almost any addiction, regardless of how severe it is, from addicts who recognize a problem before it takes over their lives to those struggling with severe and all-consuming addiction for years.
The right treatment program is the one that matches the level of addiction you or your loved one is dealing with. For example, if you are dealing with a person who has relapsed multiple times, committed crimes to support their addiction, faced homelessness or prison because of their addiction, is addicted to multiple substances, etc., you will want to seek out a long-term residential rehab program that can provide intensive daily treatment.
However, if you support someone whose drinking has just started to get out of control, you may only need 12-step facilitation or an outpatient program to help them get on the path to recovery. In addition, if the person you are supporting suffers from both a mental illness and a substance use disorder (called a co-occurring or dual diagnosis), you may want to seek out a treatment program that addresses those needs.
Comprehensive, Integrated Treatment Approach
Often, addiction treatment encompasses many approaches and support networks. This comprehensive approach can utilize any or all of the following resources to help an addict achieve, and maintain, recovery:
Healthcare professionals
Mental health treatment
Community support
Family support
Self-help groups
Cultural and religious support
Medication
Counseling
Detox
And more
This approach works best when integrated, which means that each element of the treatment is coordinated and overseen by a single, cohesive approach. One treatment team oversees all of the resources and treatments provided to the patient to ensure that they receive everything they need for a successful recovery.
Integrated treatment often works well for patients who require treatment for a dual diagnosis: Offering support for both the mental health problem and the substance use disorder (SUD) at the same time can increase the patient's chances of a successful recovery.
Aftercare Program
Because about 85 percent of addicts of addicts relapse within 1 year of rehab, a strong aftercare program is necessary to help the addict sustain their recovery over the long term.
Research indicates that aftercare programs can lower the relapse rate because they are designed to help patients prepare for and manage the triggers (Such as people, places, and circumstances) that can lead to relapse.
Aftercare programs can take many forms, but all of them offer ongoing support for up to a year or even more after rehab. In addition, they can be customized to your needs and help you manage everything from employment to housing, integrating back into your relationships, and even continued treatment if you need it.
Appropriate Environment And Settings For Treatment
Rehab programs provide many different environments for treatment. For example, a private rehab facility may offer many extra amenities and services, while a Medicaid outpatient facility may only offer basic services.
When choosing a treatment program, make sure you select a program with the right environment and settings for your needs. For example, do you require a residential, outpatient, or hospital program? Do you need a medication-based or holistic approach? Are you looking for many amenities and the comforts of home, or do you need a place where the addict can be safe and receive treatment? The right treatment program will offer the environment, settings, and treatment approach that fit your specific needs.
Family Involvement in Treatment
When families are involved in an addict's treatment, that person's chances of a successful recovery are higher. That is why the right treatment program will encourage family involvement throughout treatment. Here are a few opportunities for involvement that the right rehab center will offer:
Family phone calls
Family visits
Family therapy
When families work with an addict, not only can the addict recover more easily, but the family unit can also become healthier and more functional, creating a more peaceful place for the addict to succeed after rehab.
Strategies to Help Engage and Retain Patients in Treatment
Treatment can be painful and difficult for addicts. From enduring withdrawal in detox to facing inner demons in counseling sessions, the process can be rocky, and patients sometimes choose to leave early.
A good treatment program will be prepared for this possibility and have strategies to help engage patients in their treatment and help them decide to stay. Ask the treatment center how they plan to support patients in staying in treatment, how they handle patients who express a desire to leave, and how many of their patients leave early. Choose the treatment facility that has a strong record of keeping patients engaged throughout the length of their treatment.
Success Rates
No treatment program will have a success rate of 100 percent. However, treatment facilities should be able to provide information that indicates a strong success rate for their patients.
Defining success can be difficult since addiction is a chronic disease. Instead of focusing on the number of patients who never relapse, ask the treatment facility how THEY define success. It could be any of the following:
Relapse rates over a month or a year
Reduced use of the addictive substance
Stability as indicated by employment, housing, etc.
Better physical health
Restored relationships
Improved mental health
The right facility will have a strong record of success in meeting these success metrics.
Staff Qualifications and Certifications
One of the most basic ways to identify high-quality treatment programs is to look for ones that employ certified staff.
Staff should possess qualifications and certifications that confirm their ability to offer quality treatment services for addicts. There are many certifications addiction counselors can receive, allowing them to specialize in everything from nicotine dependence to teen recovery.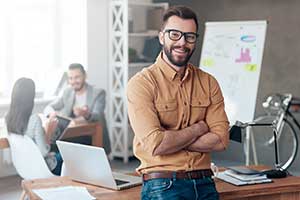 There are also certain levels of certification that counselors can receive. For example, they can become a National Certified Addiction Counselor on two levels. Some certifications qualify a counselor to train others, while other certifications equip them to treat patients. Explore the staff certifications in your chosen treatment center, and ensure that these certifications indicate that the center employs qualified staff to provide expert treatment.
Personalized Treatment Program
Another indicator of the quality of a treatment program is the level of personalization it offers. For example, some patients benefit from services tailored to their unique circumstances. Here are some of the demographic groups who can benefit from specialized treatment:
Members of the LGBT community
Active duty military
Teens
Pregnant and postpartum women
Dual diagnosis patients
If you or your loved one require personalized services, you may want to look for a rehab facility that provides this type of support.
External Accreditation from Nationally Recognized Quality Monitoring Agencies
Accreditation refers to the fact that the rehab center has been through an evaluation to determine that it meets specific standards set by the accrediting body. These are the two most nationally recognized monitoring agencies for drug rehab facilities:
CARF - A nonprofit accreditation body specializing in addiction and dual diagnosis treatment
The Joint Commission - The nation's largest accrediting body for healthcare organizations
Choose the treatment facility that has a strong record of keeping patients engaged throughout the length of their treatment.
Ensure that any treatment program you choose possesses accreditation from one of these bodies, or a similarly recognized body, to ensure that it meets the highest standards for quality addiction treatment.
Holistic vs. Drug Substitution
When it comes to addiction treatment, there are two primary approaches: Holistic treatment and drug substitution treatment. Drug substitution treatment focuses on providing the addict with drugs (primarily methadone and buprenorphine), that mimic the effects of the addictive substance. These drugs prevent withdrawal symptoms among addicts and empower them to stop using the addictive substance fueling their addiction.
The second approach is a holistic treatment. This is a nonmedicinal approach that focuses on various treatments to help the person heal as a whole. This means strengthening their mind, body, and emotions to overcome their addiction without fostering dependence on any other substance. Approaches may include the following:
Massage
Tai chi
Spiritual therapy
Acupuncture and acupressure
Reiki
Yoga
Meditation
Biofeedback and neurofeedback
Nutritional therapy
Herbal medicine
And more
Holistic treatment prepares addicts for long-term recovery success because it focuses on treating the whole person rather than just focusing on one or two aspects of addiction.
In addition, many patients prefer holistic treatment because it does not require the addict to take additional medications over the long term to maintain their recovery. Patients who achieve recovery through holistic means enjoy total freedom from substances.
When choosing a treatment program for yourself or a loved one, there are many factors to consider. However, these 10 elements are the most important: Ensuring that you choose a qualified addiction treatment center prepared to meet your specific needs can be an important step in a successful recovery.
Sources:

Other Drug and Alcohol Rehab Services:
National Non Profit Helpline - 1-877-882-9275
Our National Non Profit Helpline is a 24/7, 365-day-a-year treatment referral and information service for individuals and families faced with mental and/or substance use disorders.
All calls are strictly confidential
Our service provides referrals to licensed treatment facilities, support groups, and community-based organizations. You don't have to struggle alone with addiction. Help is just a phone call away. Call 1-877-882-9275 now to get the help you need and deserve.